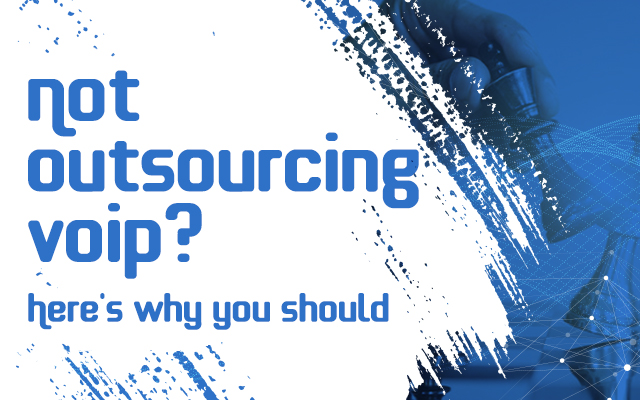 Believe it or not, many channel partners are considering outsourcing hosted phone solutions to ensure their customers are still receiving best-in-class service as the VoIP market continues to grow — and you should, too.
The more sophisticated solutions get — as you know from experience — the more time and effort it takes for you and your team to learn and deliver them effectively and efficiently to customers.
If you're still contemplating the benefits of outsourcing VoIP services, you're not the only one, but before you decide whether you should outsource, there are some points to consider first.
The VoIP market is growing — and it's not slowing down anytime soon
Regarding technology needs, many SMBs in today's market are maturing; in a sense, they're becoming more aware of the technology solutions available to them.
For instance, often, they're no longer asking for traditional phone systems for their offices; now, with the continued growth of cloud in a variety of market, SMBs are considering options with numerous features capable of connecting with the outside world in a variety of ways.
The increased interest in hosted phone systems shouldn't be a surprise to anybody who's been following the market closely. The VoIP market is estimated to grow from $20 billion in 2018 to around $55 billion by 2025, according to a 2019 Global Market Insights report.
There are several reasons why the VoIP market is projected to grow over the course of five years, including the rising costs of maintaining telecom hardware equipment, increasing number of internet users and increasing adoption of unified communication (UC) platforms, according to the study.
The opportunity for channel partners to generate revenue by outsourcing hosted phone services is quite clear, too. SMBs are projected to exhibit an accelerated growth of more than 15 percent in the VoIP market from 2019 to 2025, according to the same report. Our experts can tap into this market.
One of the main reasons why many SMBs are moving toward cloud PBX systems is the growing trend of workforce mobility and budgetary constraints — ultimately compelling SMBs to find ways to reduce equipment implementation and maintenance costs, and expenditure on IT staff training, another way for channel partners to generate additional revenue streams.
How SMBs benefit from hosted cloud phone systems (a quick refresher)
There are many reasons why hosted cloud phone systems are better than legacy phone systems.
Some of the top reasons include significant cost savings; maximum flexibility; high degree of scalability; no maintenance required; and exceptional support.
Even though channel partners are aware of VoIP's benefits, they're not always equipped to handle what's required to deploy services and solutions to SMBs, so they often seek elsewhere for help.
Why outsourcing VoIP is your best bet
Channel partners today must be able to implement phone system solutions designed to enhance communications systems for their clients but to do that, they must first find an outsourcing provider with expertise in the VoIP sector, and that's not always easy to do.
While channel partners are specialists in numerous IT services, including network monitoring, cybersecurity and IT support, they're not usually well-versed in VoIP communication; by outsourcing VoIP services, you strengthen your core services, since you're able to focus on them entirely, and enhance the quality of your VoIP solutions for your clients by offering them specialized solutions.
Outsourcing your VoIP needs allows you to focus on what generates the most revenue for your business by freeing up your resources. This is an opportunity for channel partners to create new revenue streams and acquire new customers.
Part II will discuss how you can get in the loop and deliver hands-off VoIP services.