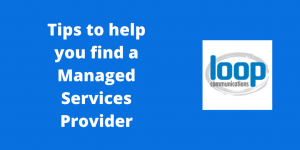 We work with a lot of managed services providers (MSPs), and our customers do as well. For those who don't yet work with MSPs – or if you're looking for a new one – selecting the correct partner can be difficult, as evidenced by all the stories we've heard about bad experiences with one MSP after another.
We've enjoyed the relationships developed with a number of MSPs, and we think we know their pros and cons pretty well. So, we're going to offer our thoughts about how you might select and work with an MSP for your IT needs. Got any questions? Let us know!
What questions should I ask a potential MSP partner?
First, is the managed services provider focused on your business? Is their niche similar to yours? If so, that is certainly a friction reducer. They speak the language, they'll understand the processes, and they're going to have better instincts to get you where you need to go.
Businesses like real estate and accounting have more generic needs, but specialized businesses such as medical, dental, legal, graphic design and industrial often have very unique demands. If you have a specialized business, you should have a more specialized MSP.
Start your research by Googling. If an MSP has spent the time, energy and effort to become focused on a specific vertical, they're going to market it as much as possible.
Don't ask about techy things like "scalability" — ask about more basic things like availability. If I need to grow, can you help me? If I need help, do you have resources that can support me? That's what the SMB market should be focused on: Am I going to get the right kind of help when I need it?
What questions should my business ask itself first?
Try to have as clear of an idea as possible of what you're trying to find. Are you growing? Are things stable, or in flux?
Next, are you just looking for break/fix service – only calling when something is broken – which doesn't require a monthly contract? MSPs usually look for management contracts, where you pay a monthly fee and they take care of everything. Make sure to clear up that issue, because some won't do break/fix.
Finally, find out if their processes match your processes. If you're a real estate firm that's having an issue, is it usually something that allows for sending in a ticket? If not, how quickly will you need help, and do the MSP's processes accommodate that?
There will be cost differences – if you have more needs, then you'll typically pay more. But if you're comfortable with someone coming out the next day or the day after, then make sure the MSP understands that. Otherwise, you'll get frustrated, and so will the MSP.
Is break/fix enough if I want to spend less?
Honestly, you want the management contract. The idea that you'll save money by doing break/fix is mostly a myth.
Using the dental office as an analogy, it would be like saying, "I won't brush my teeth or floss or do anything else. I'll only go to the dentist when it hurts." By that point, it's going to cost you, whereas if you'd spent time brushing your teeth and getting checkups, it would save you a lot of money.
Do I need a big company, or is a smaller MSP partner OK?
That can go either way. There are one-man shops that are good for certain things. They're great, they love their customers, and they work their tails off.
But for some customers, small MSPs don't have enough resources. If you have frequent, time-sensitive needs, then some smaller shops might not be for you.
How much should I pay an MSP?
If your stuff is working like it's supposed to, you're not paying too much. If it isn't working, it doesn't matter what you're paying – you're paying too much. It's the old adage about the best deal being the one where both sides walk away feeling like they did OK.
Needs are different for everyone, so the right price is difficult to determine without context. Of course you should get comparisons. Meet with at least three providers. Compare apples to apples as best you can. Because if you talk to three different MSPs, they'll do things three different ways. Examine the price difference, see what those who charge more are offering, and try to determine if it's worth it.
Much of what an MSP offers is commoditized. They're selling hardware, or software licenses. Those costs should be similar, so what you're really paying for is interaction, maintenance and uptime. Is speed of service worth a cost difference? That answer is different for everyone.
Who is usually the person to ask the right questions of a potential MSP partner?
This is a tricky one. In most places, the person responsible typically isn't someone who's IT-savvy. And because of that, too many businesses churn through MSPs until they find a fit.
If that describes you, it's OK. Talk to your industry peers. Who are they using? Do they like their MSP partner? Ask lots of questions.
What red flags I should keep in mind?
Don't get sucked into industry jargon. If an MSP can't clearly explain what they're trying to do without using tons of technical buzzwords, it won't be a good fit. Those people are more fascinated with the technology than they are with solutions.
An inability to provide references is obviously a red flag.
Failure to provide a service level agreement isn't good. Can they promise they'll respond within X amount of time? You need firm commitments on this.
Is the MSP's biggest selling point its costs? It's possible to be "too cheap." Too much emphasis on low costs could mean they're cutting corners and recommending insufficient hardware for the job.
What is the MSP's on-call and emergency support policy? It should be clearly defined, especially with respect to any additional costs.
Beware the jack-of-all-trades. Nobody is good at everything. Nobody. If they say they are, run away as quickly as possible.
As always, some things are context-specific. You can't find everything out during an interview. If you have outstanding questions after meeting with an MSP, you can ask them (or someone else) later.
Can Loop help?
Absolutely – call us at 800-586-0321 if you have questions. We're happy to help, because the more stable an MSP's infrastructure, the more stable a Loop business phone system is when we work together.
We've built relationships with people who we feel know what they're doing, make ethical decisions AND make choices that are in the best interest of the customer. All of those things are factors.
We'll be honest with you. We've told people flat-out that they're not a good fit for certain customers, mainly based on processes. Personality plays a role, too. It needs to be a good match for both sides.
Good luck!