CHARLOTTE (April 5, 2018) — When G2 Crowd published its Spring 2018 Grid and Index Reports, Loop Communications was frequently mentioned, maintaining its status as a "high performer" and top-rated VoIP provider.
Based on real-user reviews, Loop was included in the reports for the following products: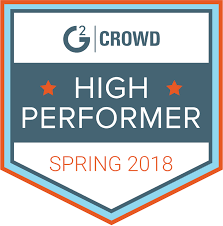 Relationship Index for VoIP
Results Index for VoIP
Grid® Report for VoIP
Small-Business Grid® Report for VoIP
Usability Index for VoIP
Implementation Index for VoIP
Small-Business Relationship Index for VoIP
The reports are based on ratings by business professionals. Each received ten or more reviews and five responses for questions in all of these categories to qualify for inclusion.
"One again, we're honored to see such positive customer feedback from G2 Crowd users," said Loop Founding Partner/CEO Brian Tolleson. "We'll work hard to make sure we continue to earn it."
"Rankings on G2 Crowd reports are based on data provided to us by real users," said Michael Fauscette, chief research officer, G2 Crowd. "We are excited to share the achievements of the products ranked on our site because they represent the voice of the user and offer terrific insights to potential buyers around the world."
Loop has consistently rated as a high performer in G2 Crowd's ratings, with an overall mark of 4.8 stars out of five. As always, we'd like to thank our customers for their complimentary responses. You can visit G2 Crowd anytime to leave your review of Loop business phone systems!
About G2 Crowd, Inc.
G2 Crowd, the world's leading business solution review platform, leverages more than 330,000 user reviews to drive better purchasing decisions. Business professionals, buyers, investors, and analysts use the site to compare and select the best software and services based on peer reviews and synthesized social data. Every month, nearly one million people visit G2 Crowd's site to gain unique insights. G2 Crowd aims to bring authenticity and transparency to the business marketplace. For more information, go to G2Crowd.com.