Loop's MSP Partner Program allows managed services providers to offer customers a Hosted VoIP Business Phone System with the best customer support in the industry.  We work with you to make sure that your customers are presented with the perfect solution for their business and elated with the customer service they receive.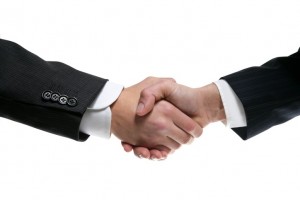 We know what you're thinking. Lots of business phone system companies offer partner programs, right? Yes, but we think our structure works pretty well. And with our MSP partners reporting a 98 percent retention rate on business phone offerings, we've got data to support our contention.
Here's a Q&A with Loop Founding Partner/President James McKinney on our Partner Program.
How do other business phone system companies approach partner programs?
Typically, there are two ways. The first is a reseller program, where the MSP refers a customer and they'll pay a commission. That's closer to what we're doing.
The other is a white-label program, in which the MSP puts its name on the invoice. That gives the appearance of the MSP providing the phone service, instead of the phone company in the background doing so. This is a common practice in the telecom world because the MSP already has the inroad to the customer. There's no need to go in and pitch someone.
What did you learn along the way?
We started that way, and after about a year and a half, found that white-labeling is too problematic to be successful. Our biggest value-add is customer service. We're obsessive-compulsive about it, over the top … it's what we are. When you white-label, that aspect is removed from the equation, and we become just like everyone else.
The problem for a managed services provider that simply puts its name on something without really knowing what's going on is appearing ignorant about what's happening in this area of the business. So, when a technical or billing issue arises, the MSP is left with all the responsibility to the customer and none of the tools to fix it. A customer relationship is built on trust, and this approach erodes it.
That's the biggest red flag we saw – the fallacy that it's a good thing for an MSP's customer to think they own the phone system. As a managed services provider, the last thing you want is to be held responsible for something you can't change, fix or control.
What other obstacles are there for MSPs that offer white-label solutions?
The MSP needs staff, training and processes to support – at least from a help desk level – a phone system that it knows nothing about. That increases internal cost. We want to get rid of that, because it causes the MSP to lose any money it might make.
How is the Loop MSP Partner Program approach better?
We're going to be up front and own the relationship from a phone standpoint. We'll work directly with the managed services provider, and if there's a problem that we know is a local network issue, we'll make sure the MSP knows as much as it wants to know regarding any ticketing changes.
What we're NOT going to do is throw the MSP under the bus by saying, "It's a networking issue, so you need to call your managed services provider," or tell the customer to get their Internet service checked. We will help to facilitate a solution by working directly with the managed services partner on details, without putting their customer in the middle.
By doing that, we make sure that the customer still sees the managed services provider as an authority on their network, while helping to resolve the problem as quickly as possible. That helps lead to a much healthier relationship.
How successful has this approach been?
We have a 98 percent retention rate over a five-year period, which FAR surpasses the industry standard. That's all the proof we need.
Because our phone customers don't leave, the MSP partners don't need to find alternate phone solutions, and aren't held accountable for failures by different providers. That creates stability, and stability leads to profitability.
Does Loop offer unique benefits to MSP partners?
If an MSP brings us a customer, and then loses that customer even though we keep it, the MSP will still get paid for the life of our relationship with that customer. This approach speaks to our desire to maintain strong relationships with our MSPs.
The MSP always takes a risk, whether they white-label or work with us. We encourage them to talk with our other partners, so they understand that what we say we'll do is actually what we're going to do (which is not always the case for our competition). Also, we make sure that the partner you talk to isn't geographically competitive.
We understand that it takes time to build a relationship. We're in it for the long haul.
For more information about how you can benefit from our Partner Program, contact us now!