You're a lifeline to your policyholders.
Stay connected to them for less.
Why Your Agency Needs a Cloud-Based VoIP Phone Solution from Loop Communications
At Loop Communications, we understand that successful communication with your prospective customers and policy holders is the cornerstone of your business. Your agents rely on the phone system to grow and cultivate customer relationships.  If you are using a traditional PBX system, your agents are missing out on the key features that could enable them to better serve customers.  Or, if you are using another VoIP provider you could be paying more than you have to and missing out on the reliability and personal service that Loop Communications offers.
Loop Communications offers a reliable, simple phone system designed for Insurance Agencies that can save you up to 60% a month..  To learn more click here »
The Top 6 Reasons Insurance Agencies Choose Loop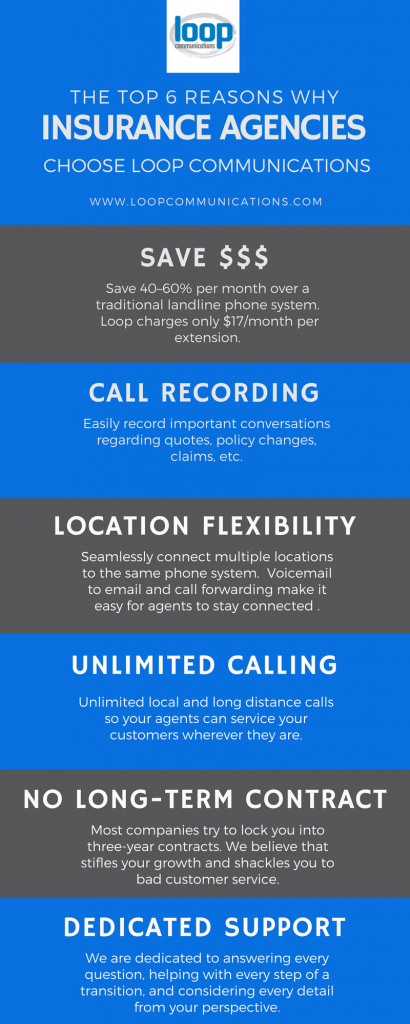 #1: Save up to 60% Per Month
Save and average of 40% – 60% per month over a traditional landline phone system.  Loop charges only $17 per month per extension (unlimited calling)
#2: Call Recording
Easily record important conversations regarding quotes, policy changes, claims, etc.
#3: Location Flexibility
Seamlessly connect multiple locations to the same phone system.  Voicemail to email and call forwarding makes it easy for agents to stay connected when they are out of the office.
#4: Unlimited Calling
Unlimited local and long distance calls so your agents can service your customers wherever they are.
#5: No Long-Term Contract
Most companies try to lock you into 3 year contracts. At Loop, we believe it's wrong to stifle your growth or shackle you to bad customer service with a long term contract.
#6: Dedicated Support
We are dedicated to answering every question, helping with every step of a transition, and considering every detail from your perspective.
Call 704.754.5000 to learn more about how Loop Communications can deliver for your Insurance Agency