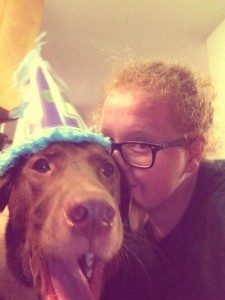 Our customers get to talk to our team members on the phone, but the work of making sure your Loop business phone system works perfectly sometimes prevents us all from getting to know each other. So, we've decided to share more about our dedicated staff with a "Meet the Team" series. First up: Rebecckah Hall.
Position: IT Support Analyst
Started working at Loop: May 2017
Hometown: Fort Mill, S.C.
Current residence: Charlotte, N.C.
Education: University of South Carolina (computer science, 2012)
First job: CiCi's Pizza in Rock Hill, S.C.
Pets: A cat named Ham and a dog named Cheese
What do you like best about your job?
I like talking to people, and supporting our clients.
What's your best attribute?
I'm good at trying to explain technical things to people in non-technical terms.
How did you find your job?
I submitted an online application. One of the requirements listed in the job description was being able to hit 50 points on Skee-Ball. I brought it up in my phone interview, and James said I was the only person who mentioned it. I really liked it, but he mentioned that all his colleagues thought it was stupid. (Editor's note: We can confirm this.)
What's with the spelling of your name?
I was adopted. My mom was a foster parent, and was able to keep me. She wanted something unique – like the Biblical spelling (Rebekah) but not exactly. Clients always spell my name in creative ways. Some people spell it different ways in the same day.
What are your favorite places to go?
I like the Flying Saucer, which has a million different kinds of beer. I prefer Belgian beer, which James thinks is terrible. We also spend time at the Lucky Dog Bark and Brew, since we can bring Cheese.
Back to your pets … they have unique names.
I adopted the cat first, and just really liked the name Ham. Cheese came later, and when I adopted him (a chocolate lab), I said, "We have to name him Cheese."
Who would play you in the Loop movie?
Matt (Rebecckah's boyfriend) says Emma Stone, because she plays crazy pretty well.
Person you'd most like to meet?
J.K. Rowling, I've probably read Harry Potter and the Sorcerer's Stone 20 times.
Place you most want to visit?
Dublin, Ireland
Favorite place you've been to?
Barcelona, Spain
Favorite hobby?
Video games. I play World of Warcraft waaaaaaaay too much.
I also like baking, and recently got into home brewing.
Superpower that you'd most like to have?
Flying. It's the only choice.