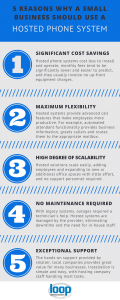 In many companies, gone are the days of pricey tech equipment and ongoing maintenance contracts. The cloud has arrived, and its benefits extend to nearly every business function.
It used to be that phone service represented a major expense for businesses. Traditional PBX systems acted as private networks within companies, using a variety of expensive equipment to allow employees to share a limited number of phone lines. Gear needed to be upgraded regularly, and ongoing maintenance added to the monthly costs.
Today, savvy businesses enjoy a variety of benefits by using hosted phone systems. Unlike legacy systems, hosted solutions use an outside service provider employing Voice Over Internet Protocol — VoIP — to provide phone service that includes a number of advanced features. Here are five of the top reasons businesses should consider using a hosted phone system.
Significant cost savings
Hosted phone systems typically provide a significant cost savings for businesses switching from traditional systems. They cost less to install and operate, and monthly fees tend to be significantly lower and easier to predict. Most importantly, hosted systems involve no up-front equipment charges.
Several charges associated with traditional systems disappear when businesses switch to hosted solutions. For instance, since all phone calls run through an Internet connection, no extra lines are required from the local phone company. Hosted systems can handle virtually unlimited phone numbers and extensions with only small incremental costs. In addition, support costs are significantly lowered or eliminated, since the system is monitored and maintained remotely. Long distance charges disappear with a hosted system, since no additional fees are charged for calling anywhere in the United States. International calling also is much less expensive.
Maximum flexibility
Hosted phone systems provide a number of advanced call features that make employees more productive. For example, automated attendant functionality enables a virtual receptionist that provides business information, greets callers and routes them to the appropriate mailbox around the clock. Small businesses can create call routing plans that match their business processes.
Additional features include call forwarding and the ability to easily add, move or remove extensions. Easy system management is conducted through a web browser or app. Voicemail is available either via the Internet,  using a phone, or via email.  Advanced conferencing functions also are available.
Hosted systems also can enhance a company's marketing efforts. Frequently changing music on hold, along with promotional messages, encourage callers not to hang up if there is a wait.
High degree of scalability
With legacy phone systems, adding employees or making other changes was a hassle that often necessitated a visit from support personnel. Hosted phone solutions, on the other hand, scale easily. Employees can be added, access can be provided in new office spaces and the system can expand into multiple offices with little effort.
Adding and maintaining additional extensions requires little technical expertise, and small businesses can easily expand without the need to invest in costly equipment.
No maintenance required
In the days of legacy systems, a phone outage was a major hassle requiring a call to the vendor and a wait for a technician to appear. While the phone system was "down," a small business' productivity can plummet and reputation can be damaged. With hosted solutions, the phone system is managed and maintained by the provider, so little or no downtime can be expected. The client isn't required to hire an expert to manage the system, and there's no worry about additional costs for breakdowns and repairs.
Hosted systems typically contain redundancy, so if one part of the system fails, backups kick in to keep service up and running. If a breakdown does occur, the service provider handles it with no additional expense to the client company.
Exceptional support
Of the many benefits of hosted systems, the hands-on support provided by smaller, local companies provides the most value for many businesses. Installation is simple and easy, with hosting company staff taking care of most tasks and walking the customer through the process.
Since all software and hardware is supported by professionals working at a remote location, changes can be made immediately without on-site visits. Upgrades are automatic and rarely cause any disruption to the client.
Hosted systems provide security that legacy systems never could, with most hardware located in secure data centers and monitored continually by advanced software that detects any potential problems.
Hosted phone systems in the past few years have become must-haves for many businesses. With their flexibility, reliability, excellent support, low maintenance and cost savings, the systems now allow businesses to focus on their core competencies without worrying about phone system management. Hosted systems enhance employee and client communications, and they foster productivity among an increasingly mobile workforce. Businesses interested in switching to a hosted system can contact a professional hosted telephone services provider.