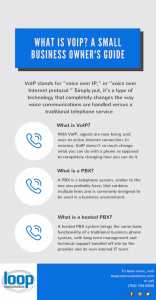 VoIP is an acronym that stands for "voice over IP," or "voice over Internet protocol." Simply put, it's a type of technology that completely changes the way that voice communications are handled versus a traditional telephone service. Though it may seem like a niche product, millions of private citizens and businesses all over the world are switching to VoIP for all of their communications services at a huge rate. This type of technology has a large number of different benefits that can't be ignored for business phone systems.
What is VoIP?
Since the invention of the phone, signals were always sent and received in largely the same way – over a series of telecommunication lines that were physically installed in a particular area. With VoIP, the same signals are now being sent over an active Internet connection. In essence, VoIP doesn't so much change what you can do with a phone as opposed to completely changing how you can do it.
If you have VoIP service installed in your office, for example, it will handle all voice services, fax services, SMS text message communication, voice messaging and more using the same technology. Apart from that technology, the differences in operation between VoIP and traditional phones are minimal. VoIP provides a dial tone just like a standard phone, for example.
What is a PBX?
A PBX is a business telephone system, similar to the type that you probably already have. It's a telephone system that contains multiple lines and is commonly designed specifically to be used in a business environment. You wouldn't find a PBX in a private citizen's home, for example, regardless of how big it is or even if they kept a "home office."
What is a Hosted PBX?
A hosted PBX is the same business phone system that you're likely already familiar with, it just isn't located on the grounds of your business. A hosted PBX system brings the same basic functionality of a traditional business phone system, but all long term management and technical support is traditionally handled off site by the provider and its own internal IT team. It operates in largely the exact same way, but you don't have to deal with installation and similar requirements.
The Benefits of VoIP
VoIP brings with it a large number of different benefits depending on how you plan on using it. Many businesses like it chiefly because it reduces communication and general infrastructure costs dramatically. With traditional telephone service, a business would essentially need two separate networks installed in the same business at all times – one to handle phone service and one to handle all other network requirements. With VoIP, voice and data jobs are all handled over the same network, reducing the amount of money that needs to be spent on installation and maintenance.
Speaking of cost savings, VoIP also dramatically reduces costs in areas like long distance calls, equipment purchases, maintenance and more. Because all calls are essentially being sent and received over the Internet, the cost to call long distance reduces to essentially nothing. You also don't have to hire one IT professional to maintain a voice network and a separate one to maintain a data network, as both services are handled via the same connection.
VoIP also brings with it the ability to dramatically increase productivity and performance, especially if you're running the type of business that makes a great deal of calls. With a traditional phone service, one person can use a line at any given time. If two people needed to make separate calls at the same time, you would either have to wait for one person to finish to free up the line or use a second line (if one existed). VoIP natively allows multiple calls concurrently over the same basic broadband Internet connection, dramatically reducing those types of issues.
Another major benefit that VoIP brings with it has to do with increasing flexibility within your organization. Businesses of all sizes tend to grow and evolve on a daily basis. The needs of your organization today aren't necessarily going to be identical to the ones from tomorrow, five months or even five years from now. As a result, you need to surround yourself with as many flexible solutions as possible to expand and contract as your business does.
VoIP is exactly that solution. As your business grows, you can easily add or remove phone numbers at will. Not only that, but the numbers can be from any area code and you can even add toll free numbers to your plan depending on the needs of your situation.
VoIP is built to natively scale with your business. The ability to add new numbers and relocate phones means it is that much easier to add new employees, move into a new office or even expand your footprint to cover additional offices.